Message from Patron and Namesake Laureate Professor Peter Doherty
Living through a Pandemic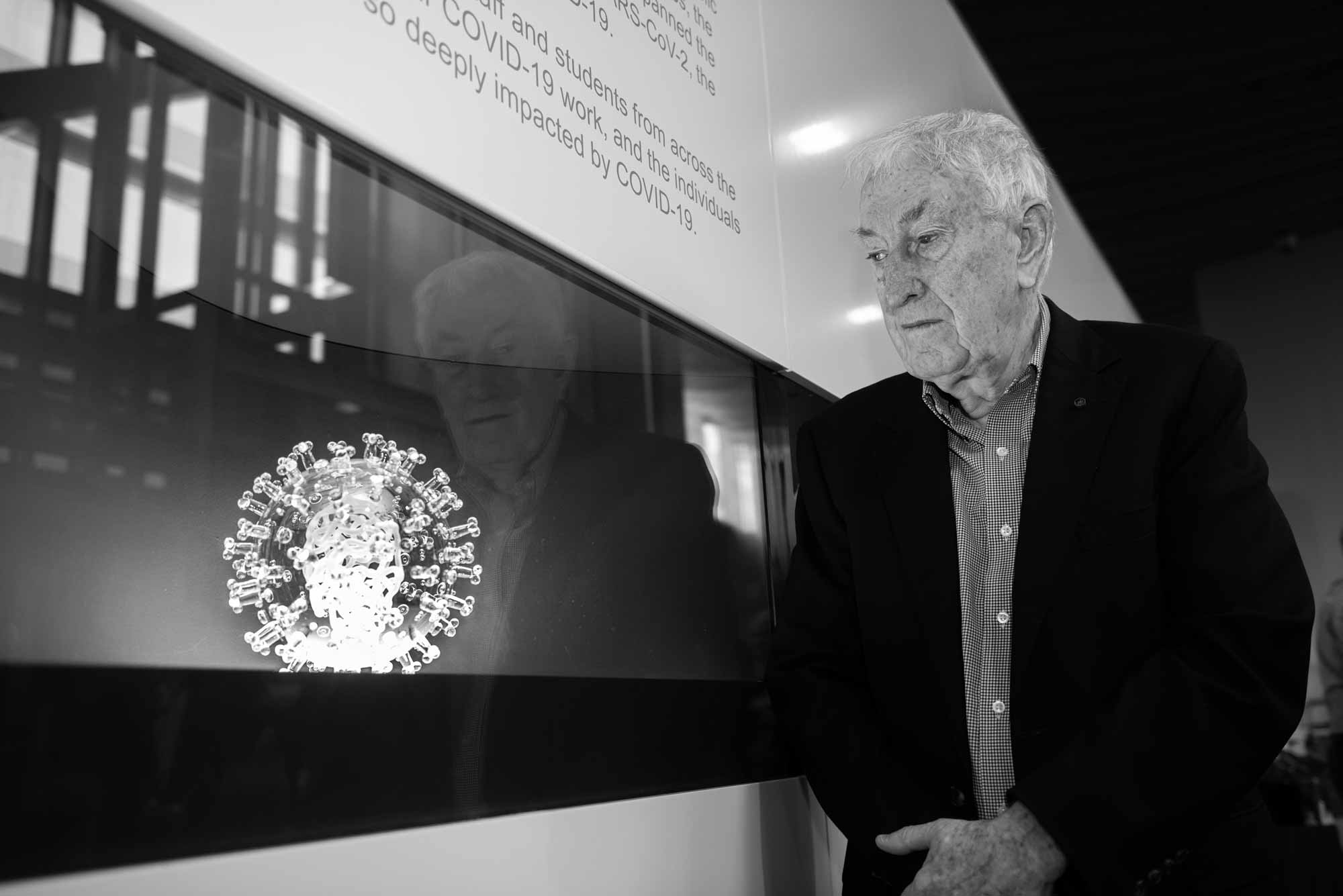 When COVID-19 hit at the beginning of 2020 I was in my 80th year, and with our National Health and Medical Research Council (NHMRC) influenza program grant ending, I was pretty much stepping back to focus on writing and enjoying more uncommitted time.
After publishing six 'lay' books on science and the scientific life, including Pandemics: What Everyone Needs to Know in 2013, I wasn't watching the science all that closely as I focused on finishing my first non-science effort, Empire, War and Tennis – it will be published by Melbourne University Publishing within the next year or so.
My semi-retirement strategy was, though, massively disrupted when the Doherty Institute's Executive Officer, Andrea Fischer, suggested that I might like to sit in on the initial daily strategy meetings that, chaired by Sharon Lewin or Mike Catton in her absence, were bringing key group leaders together for regular updates and discussion.
Though we all talk a lot within the Institute, this was the first time in a long scientific career when I was hearing repeatedly – and in real time – from people who have deep expertise in epidemiology, immunology, diagnostics, medicine, communications, legal constraints and so forth, all focused on the single issue of limiting the damage associated with COVID-19.
While these meetings brought into sharp focus what the world-leading contribution the Institute's scientists and public health experts were doing to respond to COVID-19, based on the years of experience in immunology, virology and public health, it was also an opportunity to discuss the global research that was being pumped out at an incredibly fast pace.
While I had predicted in March 2020 we would have a COVID-19 vaccine, it's incredible to think that not only did we have one vaccine being rolled out before the end of the year, but we had options! It's a testament to the science, but also of investment in vaccine development.
According to prestigious peer-reviewed journal Nature, more than 100,000 articles about the coronavirus pandemic were published globally. It was also reported that submissions to Elsevier's journals increased by 58 per cent in 2020 from the previous year. It was hard to keep up with the science!
What I soon realised back in those early days of March 2020 was that some of our laboratory and division heads were under enormous pressure and already, at times, getting pretty tired.
Apart from driving efforts in their particular area of research and/or diagnostic/clinical expertise, many were regularly online – late at night or in the small hours of the morning – to participate in committee meetings, webinars and so forth, as they sought to contribute to, and be informed by, what was happening on the global scene.
As a consequence, having been involved in public science communication since the Nobel Prize back in 1996, I volunteered to help with that aspect and take some of the pressure off my younger colleagues.
This led to my becoming the "junior journalist" – with no formal qualifications – for the Institute's Communications Team. From the outset, I insisted that I would pick up lower-level events and not in any way diminish the opportunity for our top people to enhance their media profile by appearing on widely accessed broadcast media formats.
Both scientists and the community at large need to establish this interface, so that people out there can start to hear from those who actually know what they are talking about, rather than from the "usual suspects" in the politics-focused commentariat!
With the enormous desire for informed commentary at that time, I soon became very active both locally and globally on various broadcast media, Zoom and Skype formats.
Added to that, I was invited to write an article on COVID-19 and the "pandemic we had to have" for the Saturday Paper. I think it was reading this that gave Rebecca Elliott the idea of having me write a regular, 800 word or so, column on "all things infection and immunity" that would go up on our website.
We batted various names back and forth for what turned out to be a weekly series, and eventually came up with Setting it Straight. Due out on Monday, 5 July will be the 64th in the series.
All of the columns up to number 42 and other pieces written for different formats plus another 25,000 words or so, will be published by Melbourne University Publishing as a print and eBook in August 2021 under the title An Insider's Plague Year. It's been quite a journey and a very interesting, if at times exhausting and frustrating year!
Seeing the vision of the Institute play out in 2020 in real time was incredible to watch and be a part of. We brought academic scientists, researchers, and doctors together with the people who are actually delivering healthcare in the hospital and the people who are running the diagnostic programs. We all learnt an enormous amount across the spectrum.
Recruiting Professor Sharon Lewin as the Director was inspired. Her particular combination of skills and intelligence has been a powerful factor in the Institute doing as well as it has.
And, if I was ever in any doubt about that, it's crystal clear to me that our young Institute, and the diversity of people who make it work, proved fit for purpose in every possible sense. 
Infection and Immunity - Evidence Explained podcast