Growing and sharing the virus that changed the world
Immediately after receiving the first confirmed COVID-19 sample, The Royal Melbourne Hospital's Victorian Infectious Diseases Reference Laboratory (VIDRL) jumped into action – the rest is history.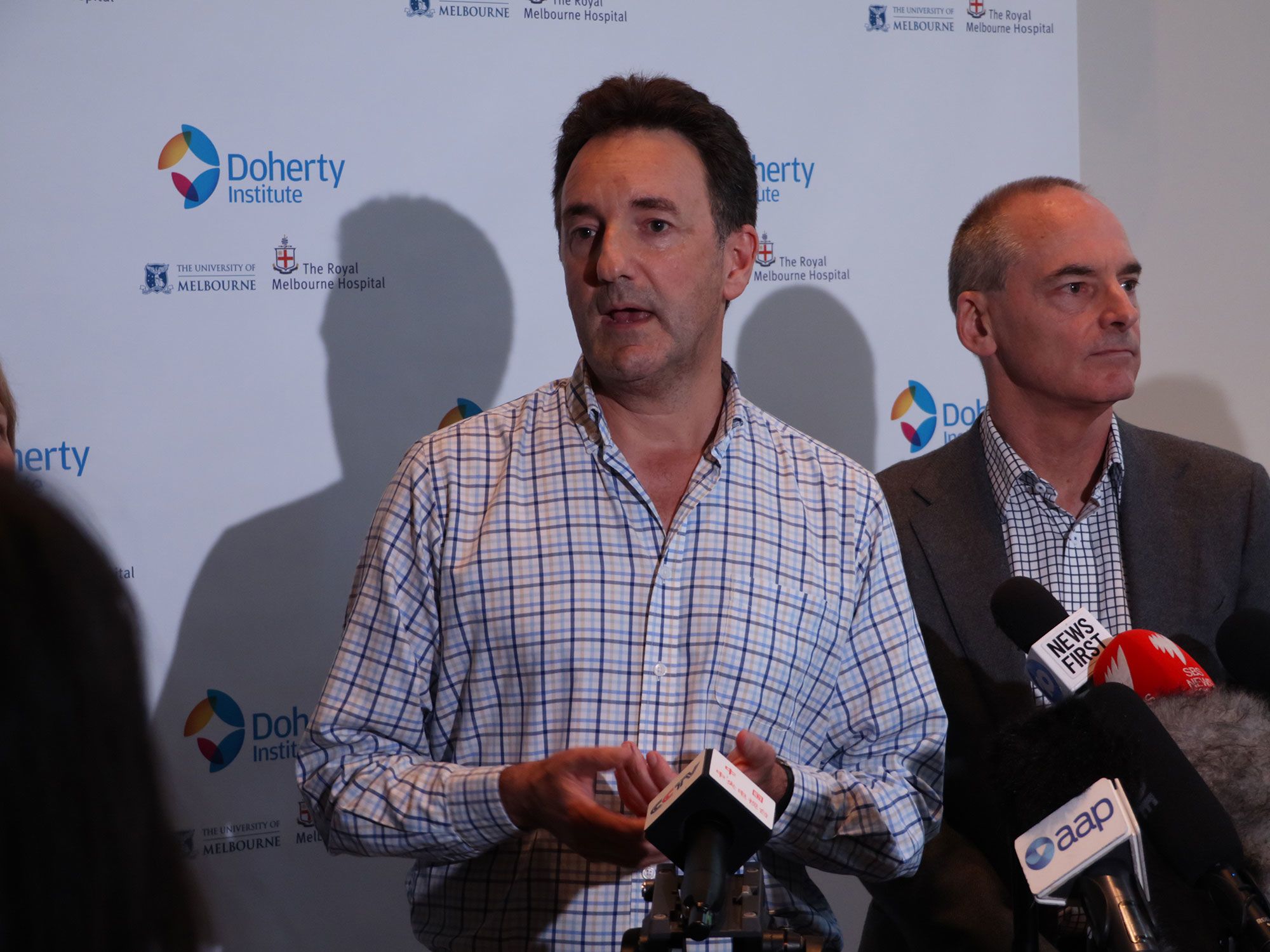 If there was one moment during 2020 where the Doherty Institute became a household name, it was the announcement that the team from VIDRL had grown in culture SARS-CoV-2, the virus that causes COVID-19, and were about to begin sharing it with laboratories around the world.
This sparked an enormous amount of attention from scientists, the media, politicians and philanthropists, and set the tone for the research, testing and public health initiatives for the months to come.
But let's take a step back to testing – VIDRL Director and Doherty Institute Co-Deputy Director, Dr Mike Catton, says the team was well-positioned to be ready for COVID-19 testing given their 2007 experience when they successfully diagnosed an arenavirus through whole genome sequencing.
The arenavirus caused a cluster in Melbourne of three deaths of people who had received an organ transplant.
"This took three to four months, and we knew at the time it wouldn't be useful in a pandemic outbreak scenario, so we designed a whole set of pan-viral family PCR tests. These tests have been ready to detect novel viruses from about 2010," says Dr Catton. have been ready to detect novel viruses from about 2010," Dr Catton said.
"When the Middle Eastern Respiratory Syndrome (MERS) outbreak happened, we were able to test the assays in detecting a new coronavirus, and so we were pretty comfortable that it would work."
Pan-viral family tests are designed to return a positive result for a given virus family and identification of something new is by genetic sequencing of this test product.
In addition to developing a test, VIDRL's facility and equipment were ready for surge.
"There was a legionella outbreak; at the time the world's biggest, when the Melbourne Aquarium opened in 2000; and we were inundated with tests. I thought to myself then, that if this were an influenza pandemic, we would really struggle to keep up with demand," Dr Catton said.
"So we developed a high-throughput PCR test capacity. Designing the workflows and getting the equipment so that we could push lots of tests through if necessary. Over the ensuing years and smaller outbreaks like SARS we identified and smoothed over cracks in the system.
"It's biggest road test was during the 2009 influenza pandemic when enormous numbers of influenza PCR tests were done."
VIDRL diagnosed the first COVID-19 case in Australia on Saturday 25 January 2020, and at the peak of the pandemic in Victoria was processing thousands of tests a day, thirty times more than what was previously considered a busy day.
"We had the technology, the test and the facility. But an important part of this were the people. As well as our own staff, we had postdoctoral researchers and PhD students from across the Institute who put their hands up to supplement the workflow," explains Dr Catton.
It was years of innovation and hard work that ensured VIDRL was in the position it was – to be one of the most prepared public health laboratories in the country to respond to a coronavirus pandemic.
Then the big moment arrived.
"We had a tantalising piece of information that we knew from an early World Health Organization meeting – that the virus had been grown in China – but they didn't say how easy it was to grow. Seasonal coronaviruses are notoriously difficult to grow," says Dr Julian Druce, Head of the Virus Identification Laboratory at VIDRL.
"I still get tingles down the back of my neck when I think about the moment of looking down the microscope and seeing a change in the cell culture, which indicated it was likely growing."
Dr Druce started filming through a microscope that takes a photo every 15 minutes to assemble into a video file. That gave the team the opportunity to check in on the progress from home.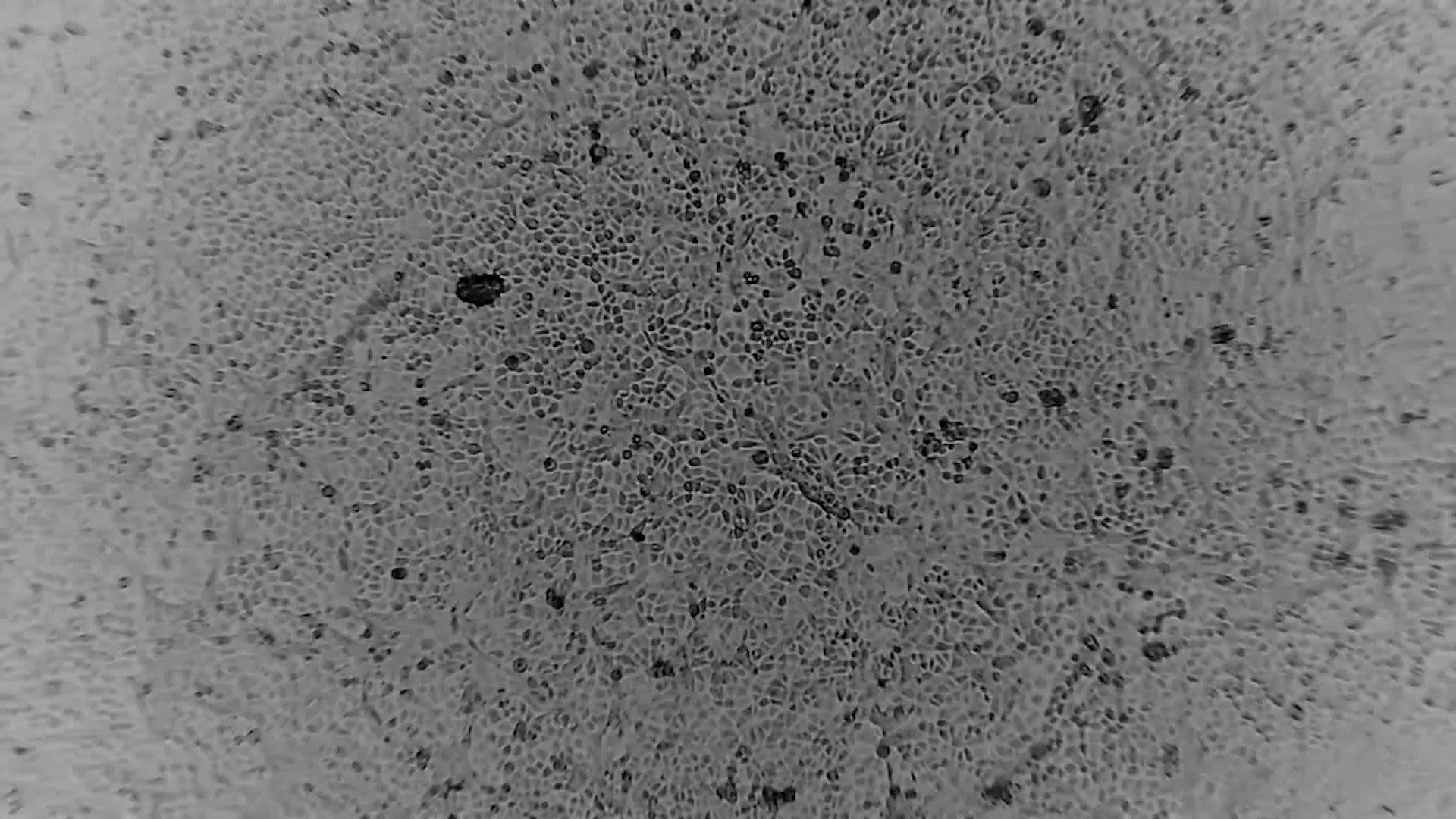 "It was abundantly clear that we had been successful in growing SARS-CoV-2 – I called Mike to let him know and said we have to share it," he says.
VIDRL had experienced difficulties in the past with accessing other viruses grown in culture and observed other labs around the world in similar predicaments.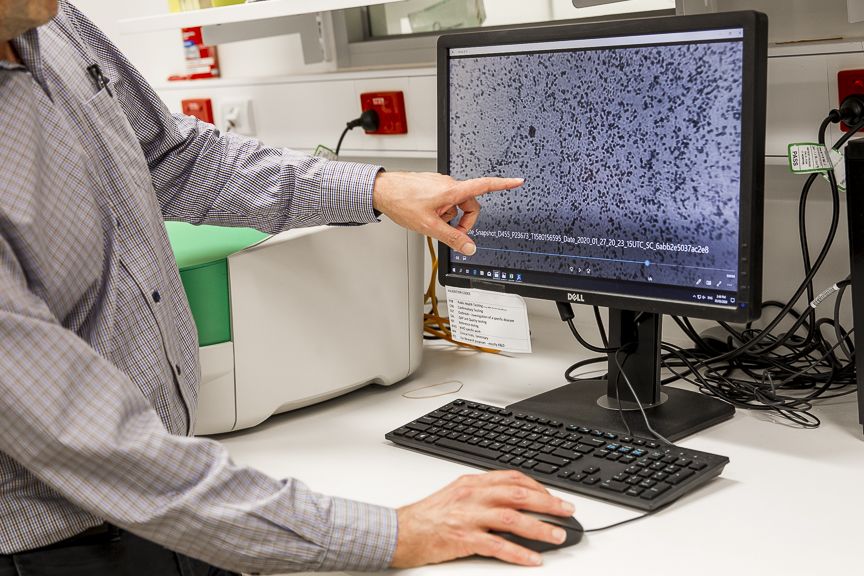 "Being able to grow the virus is crucial as it allows accurate investigation and diagnosis – while we didn't know at the time how devastating COVID-19 was going to be, it was clear to us as global citizens that we needed to share our breakthrough. It was the right instinct," says Dr Catton.
As of June 2020, infectious virus grown in VIDRL's laboratories had gone to around 23 labs around the world, including Belgium, UK, Netherlands, Germany, Russia, USA and Canada. It had also been sent to two European repositories for onward sharing. The ability to share the virus so widely was supported by Business Development Director, Dr Martin Elhay.
This work, which also included genomic sequencing input from the Microbiological Diagnostics Unit Public Health Laboratory, was published in the Medical Journal of Australia in April 2020.
VIDRL continued supporting private and public laboratories in Victoria and around Australia throughout 2020, and offered capacity building for laboratories in neighbouring countries, as they had done for years prior to the pandemic.
More on COVID-19